ThermAFrame
Thermally Broken 50mm Commercial Door
Alspec's ThermAFrame 50mm Commercial Door is an energy efficient option that utilises the latest in European Polyamide Thermal Break technology combined with Australian design principles to achieve the best possible results in energy rating in a system that is easy to fabricate and install. It's versatility allows seamless integration into ThermAFrame Centre Pocket and Flush Glazed Systems to achieve the most challenging structural and energy requirements. It has been designed to accommodate high performance double glazed units that can maximise the performance of the building
envelope.
Available in a 50mm Door width featuring a 'double wishbone' Thermal Break design the ThermAFrame Commercial Door allows architects to minimise the transfer of heat or cold across a Door with a standard system.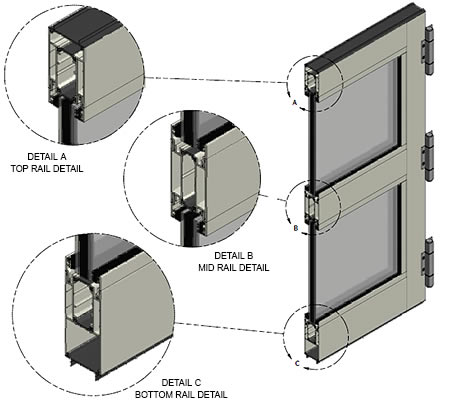 Glazing could not be simpler with the colour coded wedges from standard Alspec systems being utilised to deal with the many diverse glass options.
Featuring optional top and bottom seals for increased performance the ThermAFrame Commercial Door is the preferred choice where superior weather performance is required. A range of glass thickness options up to 32mm allows the system to be configured for excellent thermal and acoustic
performance. The system is complemented with proprietary Heavy Duty Aluminium Hinges to ensure maximum performance with large, heavy IGUs. Sashes can be fitted with most standard locking options.
Key Features:
Excellent 'Uw' values down as low as 2.3
Utilises a strong 'Double Strut' thermal break construction for maximum strength in the door panel
38mm wide glazing pocket accepts double beaded rolls in both sides
Colour coded glazing wedges ranging from 3mm to 7mm in one mm increments
Heavy Duty Aluminium Hinges designed for use with the system
Stronger sash achieved through the use of custom designed corner clamp spigot

Door can be installed as either Hinged, Pivot or Sliding
Integrates with ThermAFrame Centre Pocket and Flush Glazed Systems
Specifications:
For structural performance refer to the Alspec Technical Manual
Commercial Framing
WERS Rated
Designed and tested to AS2047

Performance:
Serviceability Pressure: Up to 1400Pa
Ultimate Pressure: Up to 3000Pa
SHGC Range: 0.24 - 0.44
Uw Range: 2.3 - 3.2 W/m²· ° K