Liveable Design and Access
Liveable design is the inclusion of key easy living features that aim to make spaces easier and safer to use. This allows for ease of access with no entrance trip hazards for people with a disability, senior Australians, people with temporary injuries, and families with young children.

Alspec have a range of products suitable for flush sill or ramped access for both residential and commercial applications.
AS1428.1 Compliance for Disability Access
AS1428.1-2009 was authorised by the NCC Building Code of Australia (BCA) and the Disability Discrimination Act 1992 (DDA) to ensure building design requirements provide equitable access for the specific needs of people with disabilities.
Alspec's High Performance Wheelchair Accessible Sliding Door
The ProGlide UltraFlat Sliding Door from Alspec allows architects and designers the freedom to achieve large expansive openings whilst also offering a weather resistant wheelchair compliant sill to AS1428.1 without the need to compromise on performance or aesthetics.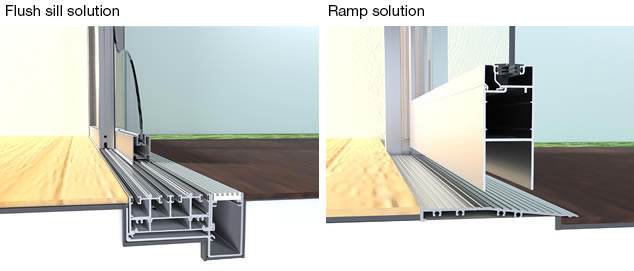 Alspec's ProGlide UltraFlat Sliding Door can comply with AS1428.1 with a recorded 19N operating force and a level, step free transition and threshold for ease of access and mobility. This ensures the client receives a solid, durable high performance product offering a continuous accessible path of seamless transition between internal and external floor finishes.
Designed and manufactured in Australia to meet the extremes of the Australian environment, the Alspec ProGlide UltraFlat is the first choice amongst architects, builders, homeowners and fabricators when performance and quality matter.
© Copyright Aluminium Specialties Group Pty Ltd. All Rights Reserved.