Product Range
Industrial // Custom Aluminium Extrusions
Custom Aluminium Extrusions
Alspec has the expertise and extensive knowledge of aluminium systems required to provide custom aluminium extrusions for clients, based on many years of experience designing and producing our own aluminium product ranges. From design through to delivery, Alspec's expert staff can guide you through the process to deliver your customised aluminium extrusion needs.
Extruding aluminium involves the design and cutting of a die, or tool, which is used to transform blocks of aluminium into the required profile. The extrusion process it is particularly useful for creating complex cross sections with a smooth surface finish. In the window and door framing industry the process is often used to make custom tracks, frames, rails and mullions.
The benefits of extruded aluminium over other products/processes
Cost-effective compared to other production methods
Lightweight, strong and flexible
Corrosion and rust resistant
Products made to within precise dimension tolerances
Complex shapes possible without the need to join parts
Fabrication into almost any shape
Uniform quality in large production runs
Easy shaping for assembly with other parts
Variety of finishes possible

Why Alspec?
With our depth of experience in designing and creating our own products, Alspec is well-placed to bring your custom extrusion into reality. Our expert staff can guide you through the extrusion process to deliver your custom profile products exactly as designed.
We are able to offer value-add services throughout the process from 3D print outs for verification through to specialised final finishes. Through our Alutrade sourcing and solutions division we can assist across all stages of the custom extrusion process from production design and assistance through to product manufacture and packaging.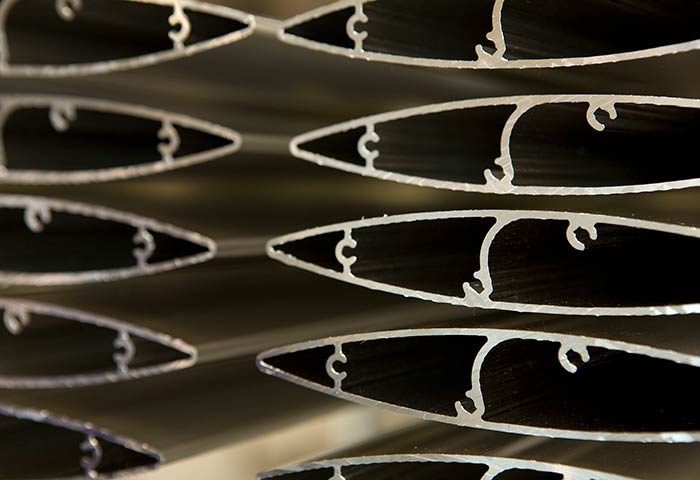 The extrusion process
Design: Extruding aluminium into custom shapes begins with the design of the profile and die.
Design of the custom profile as per client specifications.
Die created of the profile, which mimics the cross section of the end product.
Drawings prepared and supplied with the CAD file for checking by the client.
3D printing available for additional verification.
Die cutting: Following drawing approval, the die is ready to be produced.
The die is cut and used to produce an initial or "off-tool" sample.
The sample is used to check measurements and production processes.
Any fine-tuning to the process is made to meet specifications.
Production: After approval of the off-tool sample, production of the custom extrusion begins.
Blocks or "billets" of the stock aluminium material are heated and loaded into a press.
The aluminium is forced through the die under pressure from a ram, creating or "extruding" the custom shape.
The extrusions are cut to length, tempered with heat, and stretched to straighten if necessary.
Finishes and value-adds: Products may undergo further finishing and fabrication as required.
Powder coating: application of a powder, cured under heat, creating a more durable finish than conventional paint.
Anodising: an electrolytic process which creates a thick layer of aluminium oxide over the product surface.
Fabrication such as hole-punching, drilling or cutting the profile to meet client requirements.
Thermal breaks can be added (a low conductivity material is inserted between two metal layers).
Customised packaging.
Distribution: Lead times vary depending on project complexity and size. While standard lead times generally apply, they may be able to be varied on request. For further information please contact your local Alspec branch or area manager.